News
The Advantages & Disadvantages of Custom Metal Fabrication
Published Wednesday, March 10, 2021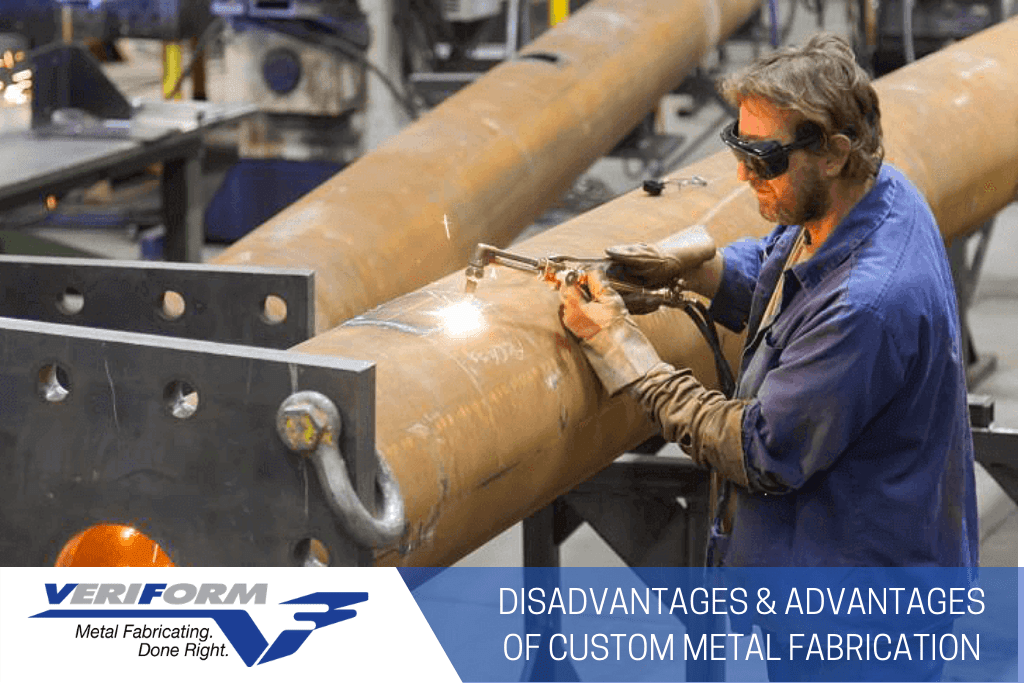 In essence, metal fabrication is the act of creating parts, components, and frames from raw metals. This can range from relatively simple parts or actions, such as cutting an existing piece of metal in two with a cutting torch, to more complicated applications like casting extremely fine components for an engine.
Several common fabrication processes include cutting metals into more manageable sections, shaping the metal to the desired form, or fixing two or more metal pieces together through welding. Casting is another process that is often used. Metal that has been molten down is poured into a casing or mold to form more detailed shapes.
Other processes include punching or stamping. The former creates holes in the metal where fixings such as screws can be fastened, while the latter involves pressing a stamp against the metal to indent details like numbers or a company name.
But custom metal fabrication is much more involved. This process involves following more detailed specifications to create something focused on a specific purpose. This could be a roll cage for a racing car, or an intricate metal wall sculpture. Custom fabricators often use complex tools such as plasma cutters or CNC machines and can offer processes such as bending, forging, and rolling to meet your exact specifications.
Different Types of Metal Used in Fabrication
The types of metal used in the fabrication process can be defined either by the raw material itself or the format that it comes in. Four main raw metal materials are commonly used in the fabrication process; aluminum, copper, carbon steel, stainless steel, and titanium. These metals are all used for various applications, such as engine components, pipework, steel girders, and building components.
These metals can also be divided into different working formats. The two main formats are sheet metal and structural metal. Sheet metals are essentially large sheets of metal that can be purchased in different sizes and thicknesses. They can be cut into smaller pieces, or have specific designs cut out of them using water jets or CNC machines.
Structural metals are raw metals that have been shaped into different forms. Pipes are a good example of a type of structural metal, and they can be referred to as Hollow Structural Shapes. They can be circular, elliptical, or square. Other examples of structural metals include beams or girders.
Advantages of Custom Metal Fabrication
There are three main advantages to choosing custom metal fabrication for your next project.
1) The Client Has Control: Hiring a custom metal fabricator enables you to ask for exactly what you need. The fabricator will produce something that will perfectly fit what you need it to do. For some projects, this is necessary as certain components can't be found elsewhere. You'll also get the custom fabricated pieces within a deadline that you can choose.
2) Metal is Extremely Durable: Compared to plastic, metal is a very strong and durable material. For components that may be placed under a lot of stress like valves or engine components, metal will be able to stand up to the punishment. Metals also have much higher melting points than materials like plastic, which makes a custom fabricated metal piece more resistant to higher temperatures.
3) Metal is More Malleable: Metals are much easier to work with than materials like plastic and can be tailored to fit a wide range of applications. For example, the properties of many metals allow them to be bent without losing strength. This is useful for applications such as pipework or custom items such as handlebars or exhaust pipes.
Disadvantages of Custom Metal Fabrication
However, custom metal fabrication does have some disadvantages compared to other options such as:
1) Higher Initial Costs: Whether hiring a fabrication company or setting the equipment up yourself, there is likely to be a premium price when choosing custom fabrication. The machines and tools used in the processes can be very expensive, and this cost will likely be reflected in the estimate from the fabrication company. The materials themselves are relatively cheap.
2) Some Applications Do Not Require Metals: Some needs can't be met by metals. If the project requires very tight bends or incredibly unique shapes, metal will struggle to accommodate these needs. This is especially true of molten metals.
3) Additional Processes: After a custom piece has been fabricated, it still isn't ready. Final touches such as deburring, grinding, and painting or spraying may be required to deliver a quality product. This adds time and cost to the project.
If you do require quality custom metal fabrication for your next project, look no further than VeriForm. They ensure only the highest quality of output and adhere to critical led times of 98% or better on-time delivery. Their certified expert fabricators have 23 years of experience in the industry. For more information and to browse their products and services contact VeriForm today.