News
Custom Architectural Fabrication Experts
Published Tuesday, July 14, 2020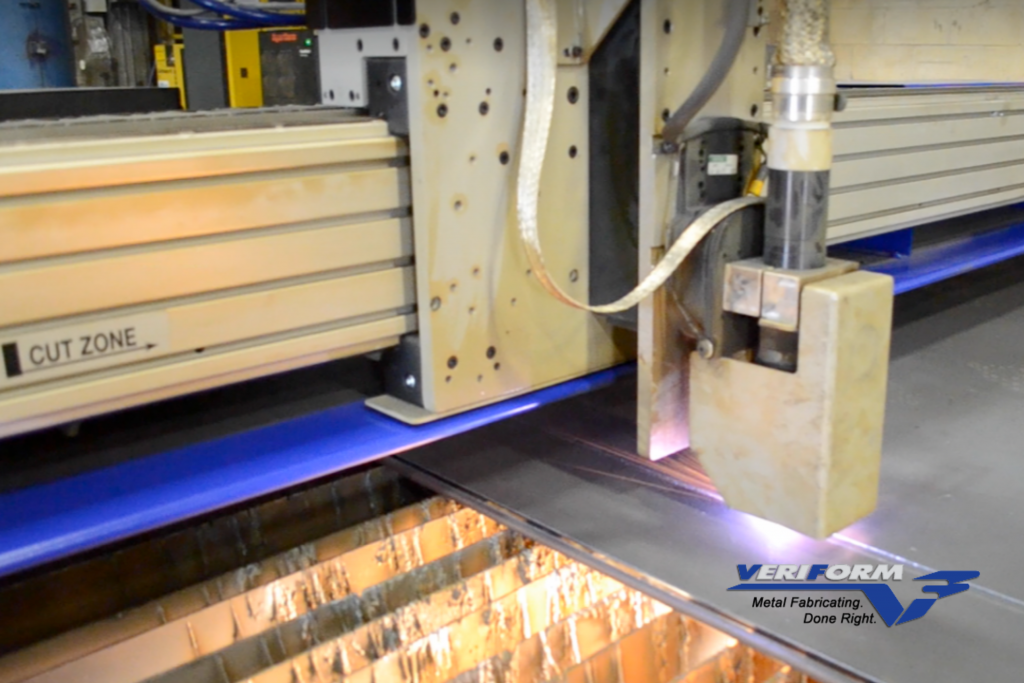 There are some projects that call for a special finishing touch. A newly opened shopping mall, hospital, or other public building gains social, economic, and cultural value when its unveiling is honoured by a custom fabricated metal statue or sculpture. Heritage buildings and those designed to replicate structures from an earlier era deliver a more authentic experience when their railings, light fixtures, and garden gates are indistinguishable from the originals.
At VeriForm, we have years of experience in metal fabrication and design for custom architectural projects. We use components like metal bars, rods, sheet metal, wood, and composites to create a sculpture, shape, canopy, or building accent that leaves an unforgettable impression on viewers. You can rely on expert assistance from our skilled team at all stages of your project.
Benefits of Custom Metal Fabrication and Design
Custom metal projects are built to last. When you work with us at VeriForm, you get a product that is designed and made according to your specifications and will work with a single team that helps you complete the entire process, from manufacturing to installation. We have the ability to produce designs made from multiple materials, including metals, wood, composites, lighting, and glass.
Our custom metal fabrication and design services include:
CAD design: Our experts are proficient in design software like CAD/CAM and Solidworks™ and can work with an existing drawing or create a new one for your approval.
Laser cutting: Our CNC laser cutting service is capable of cutting up to ¾" x 80" x 160" with an accuracy of +/- 0.005in, ensuring high accuracy in the outcome.
Press brake bending: Our brake forming services can bend and shape metal up to 21 feet wide, allowing us to work on projects of higher size and scope.
Fitting, welding, and assembly: We shape your vision and install it according to your specifications, keeping excellence in mind the entire time.
In addition to custom artwork like statues and sculptures, we create sophisticated and unique architectural elements such as canopies, column covers, corner guards, handrails, and other enhancements to the interior and exterior spaces. No matter what type of project, we work closely with you to achieve the desired effect.
Our Metal Fabrication and Design Portfolio
The scope of our work at VeriForm can be seen in our portfolio, which includes public art, steel canopies, facades, columns, and feature walls. It showcases our ability to serve all markets, from residential and retail to hospitals and hospitality. Recent projects include:
A 10,000-lb, stainless steel city centre canopy constructed and welded for Depco in the summer of 2015.
Totem poles laser cut from aluminum and rolled for an awards ceremony in British Columbia. Fabricated in December 2015 for McWood Studios Inc.
Large steel flowers with rotating petals installed outside the Markham Public Library.
A 26-foot long canoe made from Corten steel aluminum to prevent the onset of rusting. Fabricated for Lafontaine Iron Werks to commemorate Champlain's landing in Ontario.
Organic bullet-shaped parts fabricated from stainless steel and built using rubber and composite material dies to remove any processing marks. These parts were used for a federal government display in Ottawa.
Six 8 and 10-foot aluminum sheet metal cups cut, rolled, and welded for Masaba Canada to create artistic versions of giant cups after being painted. 
All of the projects featured in our website portfolio were designed for a specific client or purpose and are merely representative of our architectural fabrication expertise. When you work with us, we help you create forms, shapes, and artistic renderings that are as unique as the purpose they are designed for while complimenting their space and their surroundings. Our areas of specialty include:
Custom contours and shapes
Intricate natural and mathematical forms
Rolling structural steel into convex and concave shapes
Unique metals and finishes such as brass, polished copper, and bare Muntz metal
Working with non-metals like wood, plastics, and composites
Quality industrial coatings like Amercoat
Insulation for silencing
Contact a Metal Fabrication and Design Expert for Your Next Project!
For over 23 years, VeriForm has earned a reputation for excellence in metal fabrication and customer service. We manufacture under the ISO 9000-2015 quality system and work closely with architects, designers, and project owners to deliver a result that meets your needs and specifications. Our expertise includes all aspects of architectural manufacturing and design, including unique and one-of-a-kind projects. We pride ourselves in our craftsmanship and attention to detail, so please call 519-653-6000 or contact us to discuss your needs.